DUST018- JAGUAR-AXE CRAZY IN HOLLAND DLP
Growing up in the Bay Area in the early 80's there was no shortage of great gigs that came through including some of the bigger NWOBHM bands. One of our biggest regrets though is missing the gigs by the hundreds of NWOBHM bands that never got the chance to make it to the U.S. Therefore we jump at the chance to get recordings from these shows such as the cd Majestic Rock put out in 2006 of this show from Jaguar from their 82 Dutch gigs.
After putting it on it wasn't long before we realised what was happening, this small club and the Dutch maniacs inside were being crushed by the fastest most aggressive heavy metal available to date. The crowd requesting, no demanding that each song be played faster and faster and the band upping the speed at every opportunity, even taunting the crowd! All the classics are here, Dutch Connection,Backstreet Woman,Stormchild,War Machine, Cold Heart,Axe Crazy and more!
Surely gigs likes this along with the emerging UK hardcore scene were the birthplace of speed. In any case metal magic from the New Wave of British Heavy Metal.
Leather and Sweat,stale lager,bloody nose and loosened teeth included for those who still believe.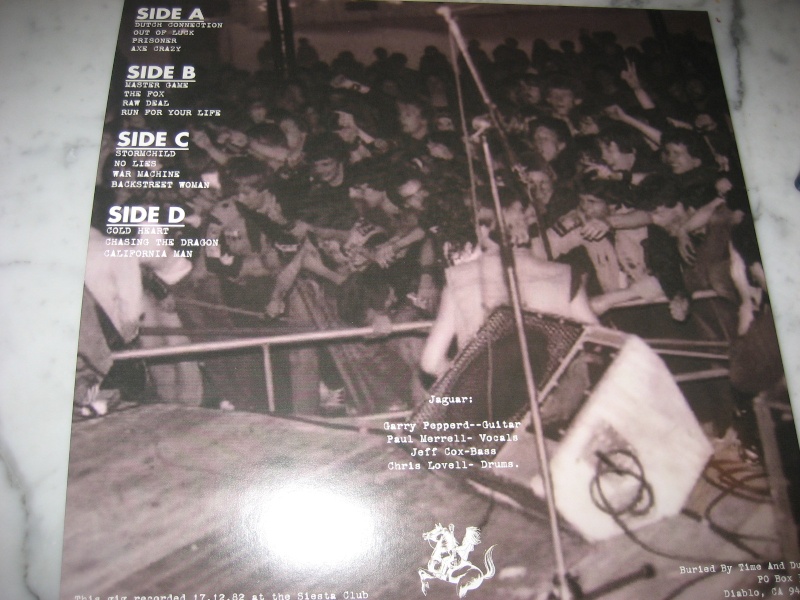 Gatefold DLP
Liner Notes by Garry Pepperd
Reproduction poster of the Dutch Fan Club Zine "War Machine